AC installation services in NYC should be reliable, affordable, and secure. If you need a set of window units installed for your apartment or home, today's best manufacturers provide the means and opportunity to stay cool when the summer heats up.
When you choose an installation provider for AC installation, you'll want to consider these four factors when evaluating each company.
Does the installer know what the current NYC laws are for installation?
Do they represent the best names and brands in the industry?
Are there references or reviews to read that can tell you want to expect?
Will you get charged a fair price?
A lot is riding on the line when you hire AC installation service providers. Local Law 11 states that all window units must be secured correctly. If you live in a building six floors or higher, several additional guidelines must be followed.
If your contractor or installer fails to abide by those guidelines, the city can fine you up to $1,000 per month until the AC unit gets reinstalled correctly.
Is My Air Conditioning Unit Installed Incorrectly?
When you contact our team about your air conditioning needs, we can install a new unit that meets all the requirements of Local Law 11. If you have an existing product that you'd like to have reviewed to see if it is up to code, we can also provide that service!
You'll find that we charge a fair, competitive rate to evaluate or install your AC in NYC. We can help you determine if violations exist to get you back up to code immediately.
Local Law 11 provides for several potential violations, but these are the most common ones we see when working around the city.
1. Blocking a fire escape.
The air conditioning unit cannot block an exit from your residence. It cannot impede how someone else could leave during an emergency either. That's why the AC must be out of the way of all fire escapes and similar access areas.
2. Objects placed on top of the AC unit.
Local Law 11 prohibits residents from placing items on top of the AC unit. If you look around the city on any given day, you can find everything from a TV antenna to potted plants placed on this equipment. The reason why this behavior is included is due to the added weight placed on the unit. It can cause the brackets to work loose, creating a potential safety hazard for people below.
3. Using loose items to level the unit.
An air conditioning unit in NYC must be secured to the structure appropriately to pass inspection. It's not unusual to find some apartments and homes propping up the equipment with books, bricks, or wood plants to level the unit or give it extra support. Your installer must secure it from the sides or below to ensure that it stays put.
4. Over-tilting the air conditioner.
If you tilt an air conditioner in a specific way, you can blast cool air to one particular area of the room. Some people think that a slight angle helps it drain better. Should you take that action, it could create an imbalance with the installation until the entire unit becomes unstable. Your installer should follow the manufacturer's guidelines to ensure the equipment is placed appropriately.
When you work with our team for your AC installation services in NYC, we'll ensure that your result meets the requirements of Local Law 11. If you're ready to beat the heat this summer in the city, we'll be there to give you the helping hand you need.
What If I Have an Emergency Issue with My AC?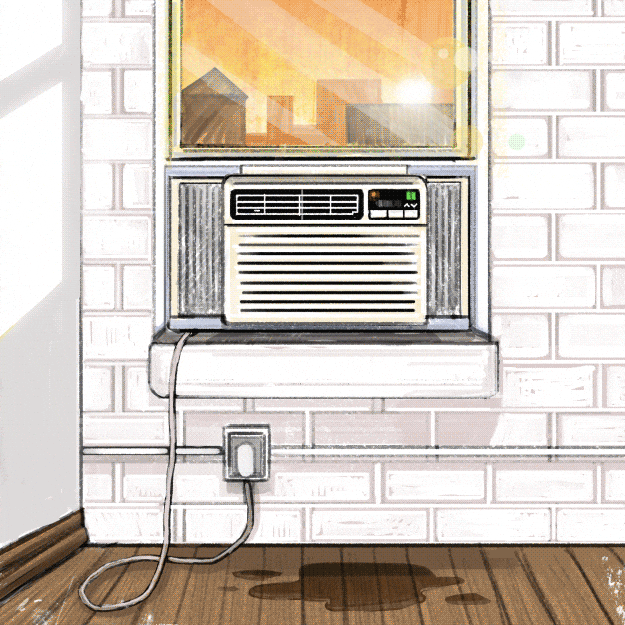 If something happens to your air conditioner in NYC, our response team can be there quickly. Not only will we restore your unit so that it is installed correctly and safely, but we'll also get the job finished quickly to limit your discomfort. We can often offer next-day services in most areas.
We have one of the best response times in the city whenever you have repair, service, or installation needs for your air conditioner.
When you're working with our team, you can have confidence that you're working with one of the best window AC installers in NYC. Our experienced technicians have the expertise to install your window unit quickly with an unmatched emphasis on customer care.
Contact us today to schedule your consultation or service needs, and we'll make sure that you can stay relaxed and happy throughout the warmer months of the year.