The weekend might be a great time to relax, but it can also be when those projects on your to-do list receive some attention. One of the best places to start is in the kitchen.
Since kitchens provide a significant amount of charm and curb appeal for a home's interior, they should look beautiful while reflecting what your needs are today. It won't serve you as efficiently if it feels outdated or doesn't function well.
Here's the good news: you don't need to start a complete renovation project to revamp your kitchen's look and feel.
What Are the Best Kitchen Projects to Tackle This Weekend?
If you don't have much time to upgrade your kitchen, these quick projects deliver a new look without wasting significant time or money. You can even tackle more than one idea to maximize the changes you see.
1. Hardware Changes
You can update the entire look of a kitchen by changing all the hardware. That means you'll swap the old handles and pulls them with something new. A standard change is to switch from pulls to knobs or vice-versa. You might need to drill some holes or fill old ones to complete the update, but it's still a doable weekend project.
The goal here is to experiment with colors. If you like the idea of brass, bronze, or gold, try getting new hardware with these tones. That way, you're not committed to the expense of fixtures and faucets if you don't like them.
2. Open Shelves
You don't need to tear down your cabinetry if you think open shelves might work better in your kitchen. Try removing the doors to your existing upper cabinets instead to see if you like this option. 
Those open spaces can be where you display your best pieces, while the pots and pans go to a different spot.
If you decide that open shelves aren't your thing, you can reinstall the cabinet doors next weekend. Another option is to change the doors to have glass panels for an updated and modern look.
When you want to do a significant change for a weekend project, you could consider taking down your cabinets to install new shelves. In addition, you might need to patch holes and give the space some fresh paint, so those efforts should be on the agenda for the first day.
You can install the shelves you love on the second day.
3. Paint the Cabinets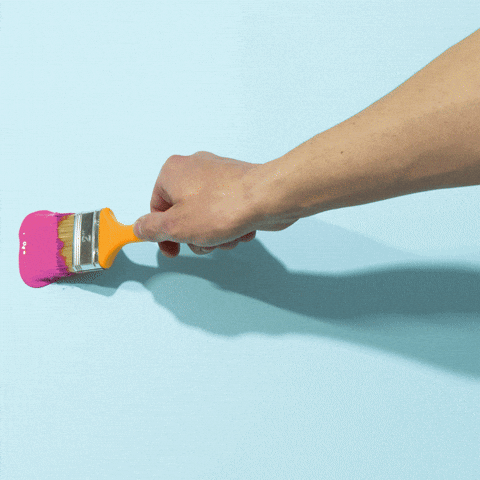 Painting cabinets will give your kitchen a new look and feel once the project is finished. It helps to use high-quality, grease-resistant products for this project. Don't forget to clean each surface thoroughly and allow it to dry to achieve the best results.
If you don't want to tackle all the cabinets in your kitchen this weekend, try painting the upper ones only. You'll achieve a new look while putting in half the work.
4. Create a Statement Wall
When you paint a wall in a room, it creates a visual statement because only one part of that space has that eye-catching color. You can do the same in some kitchens. This technique only takes an afternoon to complete, and the results speak for themselves.
Another option in this category is to paint the ceiling. If you have a hallway-style kitchen, this space typically gives you the most room to work with when trying different colors. Don't forget to take down the fixtures first!
Painting the ceiling will need drop cloths on your counters and cabinets to ensure the mess stays contained.
5. Change the Floor
Although this project will take the most time, it is still something you can finish during the two days a weekend provides. You don't need to be proficient with laying tile or mixing mortar to change the kitchen's look. Peel-and-stick tiles do a great job of altering the look without requiring significant technical skills.
This project's most time-consuming part is cutting the tiles to the sizes required to work around your cabinets. However, the work will be finished much quicker if you can move your cabinetry and appliances.
If you need any help with these projects or something more extensive, King Installation brings the experience you need while keeping the costs fair and competitive. For example, when you update a kitchen, even with a few new additions finished during a weekend, you can typically recoup most of the value in equity. So try the ones that make the most sense for your space today!