One of the fastest ways to update the look of a kitchen is to paint the cabinets. This small investment produces significant results because the color and attitude of the space shift instantly. In addition, today's best paints and primers can withstand higher moisture levels and grease while delivering a protective quality to the materials below.
When painting your kitchen cabinets, it is essential to remember that a smooth finish takes patience and careful sanding between coats. Don't try to rush through the steps in this guide to get the job done. If you plan for this to be a weekend project, you'll typically see the best results.
If you need or want help with painting your kitchen cabinets, please remember King Installation, your local contractor, can deliver an excellent outcome for a fair, competitive price.
1. Strip the Cabinets
Although you could paint over the cabinets as they are, the best way to do this is to strip away the existing finish. Then, when you can put paint and Primer on bare wood, you'll eliminate possible adhesion problems. Of course, taking on this task is not always practical, but you still need to thoroughly clean each surface and do some light sanding before you begin.
2. Prep the Rest of the Room
A successful outcome when painting kitchen cabinets starts when you prepare the area for the work. Here are the options you'll need to review when you're ready to update your look at home.
Relocate any tables or extra furniture to another room.
Empty the cabinets, clean the counters, and remove freestanding appliances.
Use rosin paper over the counters and flooring, while plastic sheeting should be used for glass, tile, fixed appliances, and doorways.
Mask off the walls around each cabinet.
You might want a worktable for painting shelves, doors, and drawers.
3. Remove the Exterior and Interior Components
Once all cabinet surfaces have been thoroughly cleaned with a degreasing agent, you're ready to take apart the shelves, doors, and drawers. First, it helps to mark the front and back to prevent mixing them up or trying to install them incorrectly. Next, set aside any shelf hardware. It also helps to remove the hinges and pulls.
4. Prep the Cabinet Boxes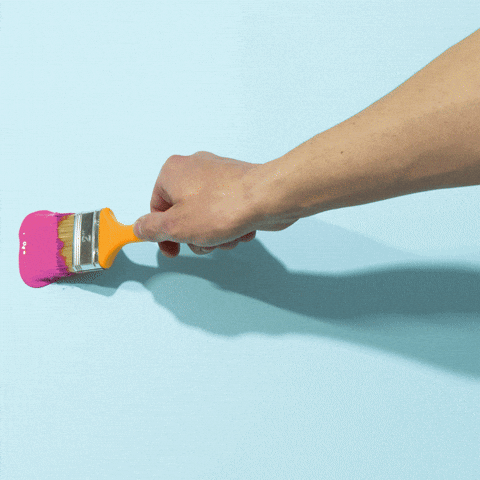 Start this step by opening the windows for ventilation. Put on any personal protective gear that may be necessary. Then scrub all surfaces one more time with an abrasive pad.
If you decide to relocate hardware, try filling the old screw holes with either polyester wood or autobody filler. The product should be sandable, stainable, and paintable.

Finish by vacuuming all cabinet surfaces to ensure no dust or debris remains that could mar the surface. Use tack cloth as the final task to verify everything is clean.
5. Use Primer on the Cabinets
If your kitchen cabinets are heavily stained, a stain-blocking primer will seal knots and surface defects while delivering a more resilient surface. Use a roller and brush to apply your preferred product. Start at the top, working your way to the bottom with light strokes to reduce the risk of runs.
Don't forget to use Primer on your doors, shelves, and drawers while working on the cabinet boxes. Allow the product to dry.
6. Sanding, Caulking, and Filling
Once the Primer is dry, use 220-grit sandpaper on all flat surfaces. Profiled areas can be tackled with a medium sanding sponge, as the goal is to create smoothness you can touch.
Then squeeze a thin bead of latex caulk into the open seams, pulling the tip as you go to smooth the line with a wet finger. Any dings or scratches can be filled at this time.
Finish by adding another primer layer once the first coat is dried, sanded, and cleaned so that no dust or debris remains.
7. Paint the Cabinets
Once you've finished the priming work, you're ready to start painting your cabinets. Again, if you're using a color similar to what already exists, it should only take a couple of coats to deliver the look you want.
Using a lighter color over a darker one might take three or four coats to achieve the look you want. Paint with the same technique as the Primer to limit runs and brush marks in the final product.
Once everything is painted and dry, you can re-install the doors, shelves, and drawers. Then you can enjoy all the benefits of your kitchen's new look!