Painting a room is an affordable way to refresh its look or give the interior an update. You can brighten up a small space, add warmth to something larger, and achieve the look of your dreams for less than $100.
The fastest and easiest way to update a room is to paint the entire room the same color. Adding a statement wall can add some dimension to spaces that need some highlighting. If you're painting a home built before 1978, you'll need to practice lead paint safety management during this work.
If you're unsure of what to do when painting or managing old paint chips that might contain lead, speak with a trusted local contractor to discuss what your options are.
How to Prepare for Painting
Before you can paint a wall, you'll need to do some prep work to create the surface you want. That process begins by removing all the fixtures and furniture from the space. Even the outlet covers and HVAC registers need to get relocated.
Carefully inspect each wall surface for dents, holes, and cracks. You can use a lightweight spackling compound or some caulk to fill in the various imperfections. These materials must dry in their entirety before moving to the next step.
Sand the putty or caulk until it creates a smooth surface with the areas you don't need to repair. Wipe all the surfaces clean with a damp towel, allow it to dry, and you'll be ready to start painting.
Don't forget to wear a respirator mask if you're in an enclosed area without ventilation.
Apply Painter's Tape Around the Windows, Doors, and Trim
A roll of painter's tape is typically less than $10. You'll want to press it flat to ensure no bleed-through occurs. When you have a non-textured surface, mask things off where the edges meet the wall, trim, or frames you want to protect.
If you have a textured surface, run a screwdriver along the edge of the wall or ceiling to create a small area where you can place the tape safely without producing a noticeable effect.
Spread a Drop Cloth to Protect Your Floor
Drop cloths protect your floor from paint drips and splatters. If you have smaller furniture items, now is the right time to relocate everything. Larger pieces can get moved to the other side of the room from where the work is happening.
Paper is the cheapest option when you're on a budget. The best choice is canvas because it's absorbent and durable, allowing you to reuse it for multiple projects.
Many people chose plastic drop cloths. Although they're durable and less expensive than canvas, they also have zero absorbencies. It's more likely that spills will get tracked through the house with that option.
After spreading out the drop cloth, you're ready to prime and paint the ceiling and walls. Always work from the top down to ensure that you can correct any spills or splatters that occur. In some situations, you can paint without primer, but it helps to add it to the walls first to seal things up and prevent mold development.
You can skip that step by choosing an all-in-one paint and primer for your room. If you use a standalone primer, it'll need to get sanded smooth and wiped down before you can paint the wall.
You'll need rollers and brushes to do the job correctly. The biggest spaces can get filled in quickly by using a paint roller, especially when painting the ceiling. When you get close to the trim and other protected areas, that's when you'll want to use brushes for the detail work.
It helps to paint a room one wall at a time. You'll get a smoother look by working the wet edge, blending in each stroke to create seamless results. When painting, it works better to use "W" or "V" shapes than a straight side-to-side motion.
Clean Up After the Paint is Dry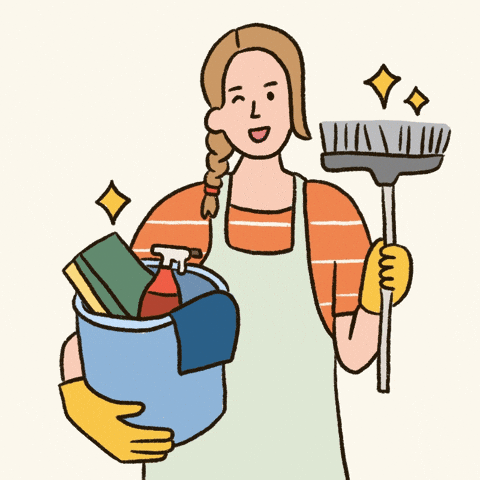 Once you've finished painting the walls and everything is dry, you're ready to wrap things up. It's time to peel away the painter's tape, remove the drop cloths, and perform any touch-up work.
If you have any remaining paint, tightly seal the cans for future touch-up needs.
The painter's tape sometimes sticks more than it should. You can remove it with a utility knife that slices through the surface while pulling it up at a 45-degree angle.
Most rooms can be finished with one or two cans of paint, a half-dozen brushes and rollers, and one roll of painter's tape. If you do the work yourself, the update could cost you less than $100.