Doing home improvement work yourself is tempting because you can manage the project. However, there is satisfaction when you create an update that looks great and saves a little money.
Should you hire a painter for your next project or do the work yourself?
Benefits of Hiring a Painter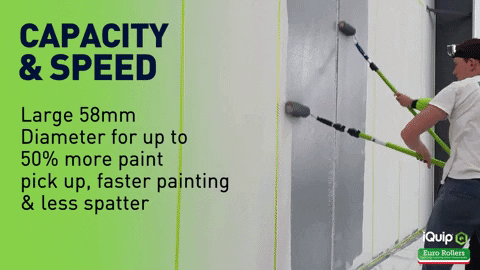 When you hire a painter, you are confident that the job will be completed professionally and thoroughly. But, if that doesn't happen, you have avenues available to repair the situation – especially if the business or contractor holds a surety bond.
There is also the issue of scheduling to consider when hiring a painter. You might need to work around them for a few days while they prepare the interior or exterior for the updated look. In addition, scraping and wall prep can be messy.
Here is a closer look at the key points to consider if you're considering hiring a professional painter today.
| | |
| --- | --- |
| Pros of Hiring a Professional Painter | Cons of Hiring a Professional Painter |
| Professional painters work more efficiently than most DIY specialists. They complete the work quickly and more effectively, taking steps to ensure things are improved for the future. | Hiring a professional painter or crew typically costs more than a DIY approach. This concern is the same as working with any service provider. |
| Professional painters know how everything should look with each step of the project. You save time and energy because you're not handling the logistics of the update. Your contractor should come with ladders, drop cloths, and other tools of the trade. | There are no guarantees that the work will be done to your satisfaction. Although most contractors offer artistry warranties and similar benefits to ensure your investment, it is up to you to do your due diligence before hiring. |
| You cannot access the appropriate paint for each room or surface without extensive research. Professional painters understand the benefits of no-VOC products, especially for homes with kids and pets. | Although paint colors are typically permitted in a broad spectrum, some zoning or HOA requirements can dictate what is allowed to use. Unfortunately, finding this information during a DIY project can be challenging. |
| Professional painting contractors carry liability insurance. Therefore, that policy covers the expenses if safety incidents or injuries occur during the project. | The recovery costs typically land on your shoulders if you get injured while painting your home or commercial building. Therefore, you'd want some liability or health insurance available to cover unexpected concerns. |
Benefits of Doing the Painting Work Myself
When you decide to update the paint on your property yourself, the work occurs at a time that fits within your schedule. For example, suppose your professional duties and extracurricular activities have you out at odd hours. In that case, this advantage ensures that people aren't coming at inconvenient or unexpected times to finish the project.
There is also the issue of craftsmanship to consider. Painting is a skill that seems simple to learn, but it has unique intricacies to manage. As a result, the outcome you envision might turn into something other than reality when taking this approach to your project.
Here's a closer look at the key points to consider if you're thinking about doing a DIY painting job.
| | |
| --- | --- |
| Benefits of DIY Painting Work | Disadvantages of DIY Painting Work |
| You get to learn a new skill while improving your property—the benefits of understanding how paint and priming products work are handy throughout your life. | If you don't have the tools to complete the project, extra investments are necessary to ensure its completion. |
| The ideal outcome from a DIY painting project is that you can save significantly while getting the desired results. Someone with the proper skill set can make this happen. | Should something go wrong during the DIY painting project, it would be on you to correct the situation. |
| Your project can get finished on a timetable that works for your needs. It's not unusual for a lead time required to be six weeks or more. | When the entire family is working on a home improvement project, there can be arguments about how to proceed. This disadvantage can lead to increased strife in the home. |
| It can be a project that brings great joy into the home. Some people love saving cash while figuring out how to get stuff done. | You're responsible for obtaining any permits to proceed with the project. If some are necessary and weren't granted before you began working, the results might need to be reversed. |
Professional painters provide outcomes you can trust while keeping costs and schedule interruptions to a minimum. If you're ready to update your home or commercial building, contact our team for a quote to see how affordable it can be to hire out this project.