Flooding issues can happen in any building. Most problems are related to plumbing concerns and not natural disasters, but the insurance companies don't always distinguish the two events from each other.
Without flood insurance, you may not have a way to claim for water damage that happens to your home.
If you experience a plumbing problem that leads to flooding, your reaction speed can limit damage to your belongings and the apartment itself. Here are the steps that you'll want to take.
Step #1: Shut Off the Water
Your apartment likely has a water shut-off valve that you can turn to stop the leak. It might be outside the building, but the most common place is under the sink. This information should be in your lease packet if you don't know where it might be.
Faucets or fixtures cause some leaks. Turn these off to stop the water from continuing to flood the apartment. Toilet and sink lines often have an independent valve you can close.
Step #2: Notify the Landlord or Manager
The landlord or manager is responsible for this issue unless you caused the water leak that created a flooding event or owned the apartment. Notify them of the problem so that a repair crew can be scheduled immediately.
Since NYC buildings can have dozens of tenants, it helps to leave your name, address, and apartment number for a fast response. Also, don't forget to offer details about the flooding incident so that an appropriate repair can happen quickly.
Step #3: Photograph the Damage
Insurance companies use documentation to process claims. So take pictures of the flooding event, significantly if your personal belongings are damaged because of the problem. You'll need to submit photos and descriptions to speed up the reimbursement process.
Your landlord may need photographs to submit property damage claims. Having them available is a goodwill gesture that can improve your relationship.
A third reason to photograph the damage involves your security deposit. If you have evidence that shows a charge against it traces back to the flooding problem, you can protect your finances better.
Step #4: Inform Your Neighbors
Water doesn't like to be contained. It is a patient damage-causer, seeping into floors and walls to start damaging other apartments. If you experience a problem, it helps to notify your neighbors in the building to be ready for potential issues.
Even if direct water damage doesn't occur during the incident, there is an increased risk of mold or mildew development in the coming weeks. When everyone can watch this issue, it can be caught quickly if problems happen.
Step #5: File Insurance Claims
Fitting any renters insurance claims is crucial as quickly as possible after a flooding incident. Most companies have an online portal to start this documentation and upload your photographs.
Some still require you to speak with an agent or broker or file a physical form. If unsure how to proceed during this step, try speaking with a customer service agent or reviewing the insurer's FAQ page online.
Step #6: Get Ready for Repairs
As a renter, you are not responsible for handling repairs to the apartment. However, suppose you own that part of the building. In that case, you'll need to refer to your real estate contract to determine your responsibilities and what belongs to the co-op, association, or another entity that helps manage your living arrangements.
Workers will need access to your apartment. Flooding can cause significant damage, so it may take several days for repairs to be finished. The contractor should share a schedule with a timeline that estimates completion.
Step #7: Use Professional Cleaners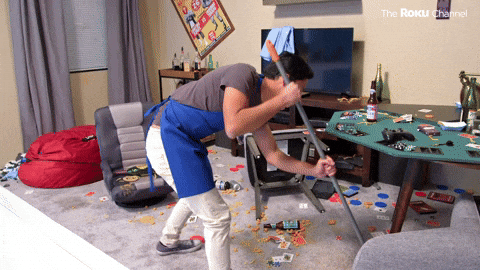 If the toilet spills over the bowl, you probably don't need to hire a professional cleaning service. However, when the entire apartment experiences water damage, it helps to bring in an experienced team that can remove future mold and mildew risks. There could also be hazards in the environment that you don't recognize, so avoid a causal approach if a significant problem occurs.
Some apartments are no longer habitable after flooding events. Although most issues are repairable, you might be asked to move out because of the damage. King Installation offers comprehensive repair services if you find yourself in that situation. Also, check with your insurer because your policy might cover the cost. You'll receive fast and professional services that bring you one step closer to getting life back to normal.